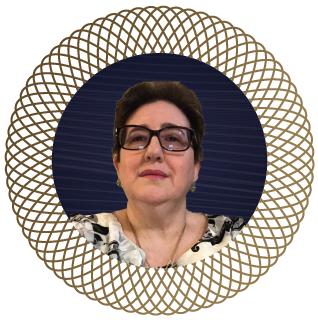 President (Academia) 2020-2022, Global Listening Centre

Responsibilities of universities in ensuring implementation of the UN 17 Sustainable Development Goals. Discussion Panel
Tools to develop cost-effective education products and services to eliminate barriers and improve the quality of learning across the globe. Discussion panel
Virtual classrooms with VR - A whole new world of education with increased access to resources.
Inclusive education in the metaverse in a post-Covid world Discussion Panel
University educator with 30+ years experience in technology-mediated learning
Lead Series Editor, Ethics of Personal Data Collection, Anthem Press,
https://anthempress.com/anthem-ethics-of-personal-data-collection
Founder and Principal, LEAD IMPACT Reconciliation Institute LLC,
http://leadimpactreconinstllc.com/
Appointed President (Academia), 2020-22, Global Listening Centre,
https://bit.ly/2J6MDMb
Named Ambassador of Peace, Board of Directors, INSPAD, 2016
NYU profiled in P2P educational program,
http://www.cnn.com/videos/cnnmoney/2016/09/26/facebook-extremism-online-cnnmoney.cnn/video/playlists/stories-worth-watching/
Entrepreneurial Spotlight: Colette Mazzucelli,
http://www.tc.columbia.edu/news/article.htm?id=8010&pub=6
Award for Teaching Excellence, NYU SPS (Global Affairs), February 2013
Courses highlighted by the Council on Foreign Relations
New York University (MS Program, Global Affairs)
• Global Civil Society (August 2012 Educators Bulletin)
• Ethnic Conflicts (March 2010 Educators Bulletin)
• International Relations (September 2009 Foreign Affairs)
Hofstra University (BA Program, Political Science)
• Comparative Politics (September 2009 Foreign Affairs)
Award for Excellence in Undergraduate Teaching, Seton Hall University (Diplomacy and International Relations), April 2006
2016 WARDEN EXCHANGE RESTON, VA
• Interview, Online-Only Warden Exchange, focusing on transformational leadership, June 23,
https://www.prisonfellowship.org/warden-exchange/
2011 STARLINK DALLAS, TX
• Television Interview, 'Global Resources: Expanding Your Students' Horizons,' April 18, 
https://starlinktraining.org/program/detail/global-resources-expanding-your-students-horizons
2004 PAN PACIFIC DISTANCE LEARNING ASSOCIATION HONOLULU, HI
• Keynote Address, "Waking Up To Imagine Another World Is Possible! The Experience of Discovery in Distance Learning," with Roger Boston, 16th Annual Conference, Distance Learning: Pathways to Cultures and People, March 13
2002 OST- UND SÜDOSTEUROPA-INSTITUT, AUßENSTELLE LJUBLJANA, SLOVENIA
• Presentation, Die Europäische Union aus externer Sicht, at the Alpen Adria @Science Week, St. Johann, Carinthia, Austria, June 11 and discussion of work in the TIMSSE series at Distance Learning Center, University of Maribor, Slovenia, June 10
Bosch Public Policy Fellow, American Academy in Berlin (2001), selected to implement the project "Educational Diplomacy via the Internet: Defining the American Interest within a Transatlantic Policy Dialogue on Kosovo,"
https://www.americanacademy.de/person/colette-mazzucelli/
, anchoring "freedom from exclusion" as a human right integrated in technology-mediated learning,
https://www.carnegiecouncil.org/education/001/ethics/0004
, and
https://www.huffpost.com/entry/unlearning-intolerance_b_6661432
Chair, Transatlantic Internet/Multimedia Seminar Southeastern Europe (TIMSSE), responsible with Bosch funding to design, organize, and teach the first technology-mediated learning seminar in the history of Sciences Po Paris offered for graduate candidates across Europe, including prominent individuals from policy communities on several continents (2000-03),
http://www.timsse.com/
, and
https://www.tc.columbia.edu/articles/2002/december/tc-muses-international-video-conference/
Director, International Programs, Budapest Institute for Graduate International and Diplomatic Studies, placed by CEP/Yale University as a Lecturer, Budapest University of Economic Sciences, 1995-97, to create ISDN videoconferences, including a six-hour program with NYU's Robert F. Wagner School of Public Service, the Free University of Brussels' IES, and the Central European University, "European Union/American Union: A Transatlantic Exploration of Institutional and Policy Developments," integrating a roundtable discussion with Hungarian foreign minister Dr. Geza Jeszensky.
Fellowship Recipient, Robert Bosch Foundation, Stuttgart, Germany, assigned to assist with the ratification process in the Federal Foreign Office (Auswaertiges Amt) of the Treaty on European Union ("Maastricht") by the Bundestag and the Bundesrat to allow for the creation of the single European currency, the Euro (Bonn, FRG, 1992-93),
https://www.amazon.com/France-Germany-Maastricht-Negotiations-Contemporary/dp/0815335938