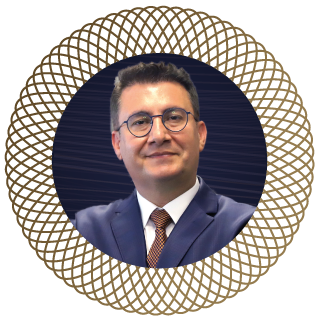 İzmir Institute of Technology, President, Turkey

Track: Responsibilities of universities in ensuring implementation of the UN 17 Sustainable Development Goals. Discussion Panel
Prof. Dr. Yusuf Baran is a professor in Molecular Biology and Genetics. Dr. Baran has been serving as the President of İzmir Institute of Technology and Chairman of the Board of Directors of the İzmir Technology Development Zone since October 28th, 18.

After completing his bachelor's degree in Biology at Dicle University from 1994 to 1998, he earned his M.Sc. and Ph.D. degrees from Middle East Technical University in 2002 and 2006, respectively. During his Ph.D. studies, he worked at the Medical University of South Carolina for six months from 2005 to 2006. He has been working at the Izmir Institute of Technology since 2007. He worked as the Founder Dean of Faculty of Life and Natural Sciences (2015-2018) and as Vice President for R&D in Abdullah Gül University.

Dr. Yusuf Baran has been involved in more than 40 scientific research projects supported by national and international organizations. He has more than 350 published scientific articles and conference papers and has published one book. He also presented at over 200 national and international conferences, meetings and forums on science, technology and diplomacy (including in the U.S., Brazil, China, Pakistan, Sweden, Azerbaijan, Israel, Germany, Chili, the Sudan, Greece, Macedonia, Thailand, Bosnia, Sri Lanka, the Netherlands, Russia, Malaysia, and South Africa). He was invited to and presented at many important conferences of global institutions including the United Nations, the European Parliament, G20 Digital and Research Ministries Meeting, the World Science Forum, the Global Baku Forum, the World Economic Forum and, the World Life Sciences Forum.

Dr. Baran's scientific achievements have been recognized by national and international accredited institutions, and he has received more than 100 awards. He was honored with the "2013 Young Scientist" award by the World Economic Forum (WEF), conferred annually to 40 scientists under the age of 40 who "actively play a transformational role in integrating scientific knowledge into society for public good." The Junior Chamber International (International Young Leaders and Entrepreneurs) awarded him the title of "Most Outstanding Young Scientific Leader of Turkey" in 2014. He earned the "Young Member Honor" in 2015, given to 25 scientists under the age of 40 by the World Science Academy. He was selected as one of 30 people to participate in the "Science Diplomacy Workshop" in 2016 by The World Academy of Sciences. Dr. Baran also earned the "Outstanding Young Scientist Award" by the Turkish Pharmaceutical Academy in 2017, by the Experimental Hematology Association in 2016, by the Science Heroes Association in 2013, and by the Turkish Academy of Sciences in 2010. Dr. Baran's doctoral thesis won the "Year's Thesis" award in 2007. Most recently, in 2018, he was one of the 28 people chosen by the American Science Advancement Organization to participate in the "Science Diplomacy and Leadership Workshop." He was awarded with "Sicence Leader of the Year Award" by Turkey Innovation and Outstanding Success Awards, "Science Award" by Hacettepe University and "Innovative and Enterpreneur Acamidican Award" by Aegean Economic Development Association in 2021.

Prof. Dr. Yusuf Baran was a member of The Global Young Academy (2013-2018) , an Executive Committee member of The World Academy of Sciences Young Affiliates Network (2016-2021), a founding member of the Developing World Academy of Engineering and Technology (2016-Present), a member of the World Association of Young Scientists (2015-Present), and a member of the World Economic Forum's Young Scientists Program (2013-Present). He was also a member of the TÜBİTAK Advisory Board from 2010 to 2015. In addition, he has held various other appointments, including ambassador for the International Young Scientist Program and advisory board member of the Academic & Scientific Cooperation Project of Turkey.

In his research, Dr. Baran focuses on the molecular biology of cancer, science policies and science diplomacy.