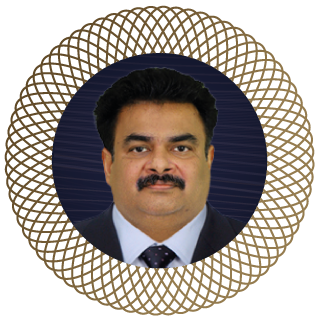 Vice-Chancellor of Skyline University Nigeria

Prof. Ajith Kumar. V. V began his term in office as Vice-Chancellor of Skyline University Nigeria on Wednesday 27th January 2021. Prior to this appointment, he has served as Dean-School of Business, with Skyline University College Sharjah, United Arab Emirates. He has served the educational industry for over 25 years in various positions in teaching and research. Under his leadership, the School of Business, Skyline University College, Sharjah has grown considerably and has successfully achieved Ministry approvals and recognitions in Teaching, Research & Services.

He has been a key driving force behind re-inventing the Center for Continuing Learning where he successfully managed relationships with various international organizations that offer professional certifications and added many new courses. He successfully started Executive Development Programs for various sectors of the industry which are running very successfully.

Prof. Ajith has attained a wide spectrum of honor's. He was honoured with the award for excellence in teaching in 2014-2015, Excellence in Academics in 2015-16 and 2016-17 respectively, AAC member of the year award in 2018-19, etc. His most recent initiative was undertaking the process towards achieving the AACSB International Accreditation for School of Business where major work has been accomplished by him and his team.

He obtained his PhD in the area of Human Resource Management and has undergone a course on Cross-Cultural Management & Problem Solving from Nanyang Technological University (NTU), Singapore. His research areas are in Leadership, HR Flexibility, Business Ethics and Diversity Management. He has published many papers in various journals and presented papers in various conferences across the globe.
He has also conducted several executive programs in the areas of Leadership, Conflict & Negotiation to employees of corporates like Gulf Air, Wipro, etc. He has teaching and administrative experience in reputed business schools like ICFAI and Symbiosis Institute of Business Management, in India. He also worked as a faculty member at the Bahrain Training Institute in the Kingdom of Bahrain for one year. He teaches business subjects like Human Resource Management, Organizational Behavior, Strategic Management and Leadership. He believes in the core values of teamwork and trust.